How to sell your home and move in with a blended family
When it comes to navigating merging two families, there are many challenges. Our tips should help you.
Dena Roche
6/22/2018 · 8 min read
Curious what your home is worth?
Get an offer in minutes, sell in a matter of days.
Find out
The TV show "The Brady Bunch" popularized it, "Modern Family" perfected it, and according to Pew Research, 16 percent of Americans are living in a blended family.
When it comes to navigating merging two families, there are many challenges, especially when it comes to buying, or selling, a home.
In addition to common home buying considerations, including finances, location, amenities, neighborhood and school districts, blended families can have their own challenges ranging from managing children's emotions to legal considerations if the couple is unmarried.
Have a chat about finances
Finances can be complicated if you're buying a house with a partner instead of a spouse. Before you start to look, have a frank conversation about your individual financial situations.
"Consider meeting as a couple with a financial advisor," said Susan Talbott, a certified public accountant and founder of Pinnacle Financial Advisors in Phoenix. "They can help you access your tolerance for risk, how buying a new home effects your other financial goals, understand tax implications, and plan for future household expenses."
The advisor can also help you understand each other's income, debt, credit scores, and how to handle any issues that could impact the purchase of a new house.
Experts also recommend that unmarried couples draw up a formal, written agreement that spells out who pays for what and what happens to the house if the relationship fails.
"The agreement should clearly explain the couple's understanding, so that they can avoid disputes in the future, and cover unexpected events," said Dalon Morgan, a real estate lawyer with Pinnacle Plan Law Center in Scottsdale. "If the couple plan to be married, the agreement becomes a house prenup, which also provides details on whether the home becomes community property after the marriage. The agreement can also be used to detail a roadmap of how to allocate costs, and to split proceeds on the sale of the home."
Even if a couple has individual financial accounts and pays for things separately, Talbott suggests that it might make sense to have a joint account to cover the mortgage, insurance and other house-related costs.
"You want to keep track of every cent that you individually put into the house since it is not community property," said realtor Katie Walsh, with eXp Brokerage in Phoenix.
Include the kids in the process
When two families decide to move together into a new household, the home buying process can be especially tricky because of the potential reaction of the children, but there are ways to smooth feathers and get buy-in from the younger set.
"They were part of the process from the start," said Kristen Jarnagin, a Long Island executive who just purchased a house with her boyfriend and their combined five children. "We made it a fun thing to do on weekends, go to open houses. There was no time frame or pressure to buy, which was a good thing for everyone involved."
While real estate agents often advise leaving the children behind when house hunting, Walsh recommends to bring the kids along.
"You want to make sure they like it, and you want to make sure they have a similar living situation, meaning if they had their own room before, you want them to have their own room in the new home," she said.
In Jarnagin's case, the couple's two 10-year old daughters asked to share a room. They were given the largest bedroom in the house. The rest of the rooms were negotiated, taking into account that her children are there full-time and his only part-time.
Make the smart move
The holy grail of real estate is location, and that goes double for blended families. If one family has to change neighborhoods, the children that have to give up their school and friends often feel slighted. The adults must decide if one family moves, or perhaps both do to neutralize the playing field. If one family is uprooted, experts often advise that the family with younger children make the move.
"If you can keep all the kids in the same school system, that is ideal," said Kathy Infeld, a psychologist in Scottsdale. "You should also try to find a location that is not too far from the child's other biological parents to make moving back and forth easier on the children."
→ Need to sell your house and move on a timeline? Request a free, no obligation offer from Opendoor.
If you're moving to a new neighborhood, get a feel for the location by driving through at different times of the day, talking to people who live there, or visiting websites like NeighborhoodScout and StreetAdvisor for statistics and reviews by locals about their neighborhood.
Plan your relocation schedule carefully
Often buying a new home is tied to selling an existing one. If both parties are moving, purchasing a new house could be tied to selling two homes. Study the market, evaluate your financial options, and plan your schedule carefully. Remember that there are many factors you're not in control of, so be prepared to rent out your old house, or temporarily move into a short-term rental.
You could also consider selling your home to a service like Opendoor. At Opendoor, we take a single service charge to put you in control of your move, and provide you with a hassle-free sales process without listing, showings, and months of stress.
The process of selling a house includes many steps that we've described in-depth on our blog, from deciding how to sell all the way through close of escrow. Financing for the new place can also be affected by timing if either party still has unresolved issues from a divorce.
"You can't get a loan until you have a divorce decree," explained Walsh. "Make sure everything is resolved with any real estate from a prior marriage. Don't put the horse before the cart."
Seek expert advise for getting the house title
Married couples will likely hold a new home as joint tenants, but how to title the house is more complicated for unmarried couples. According to the legal resource Nolo, there are three ways to take title, each with different pros and cons: one person holds the title as sole owner, both partners hold it as "joint tenants, or as "tenants in common". Title rules vary from state to state, and experts advise talking through this step with a lawyer or title professional.
According to real estate developer Michael Banovac of RMB Luxury Real Estate another idea would be to hold the property in a revocable living trust, which allows both parties to clearly define what happens when the surviving spouse either moves or dies.
A joint revocable living trust would allow them to put the home in the trust, add trustees, "and then add instructions to the trust, directing the trustee what needs to be done with the home in the event of death or disability," said Morgan.
Such a move depends on titling the home and wording in the deed, Banovac says. The trust also needs to be an additional insured party to both your homeowners and title insurance.
Declutter when combining households
Once you have purchased a new home and sold any existing homes, it's time to figure out how to combine two households full of stuff.
"It's hard because we both rebuilt homes after our divorces, so both of our things are pretty new," said Jarnagin. "This is where we've also had to make executive decisions that the children haven't liked."
As the donations and garbage piles up, tempers and emotions may too. A brother might not understand why his sister has so many clothes, and she may not understand why her brother insists on keeping sporting equipment he never uses.
Nevertheless, do a thorough purge so you're not bringing anything into the household that you don't really want or love. According to SquareFoot, paring down things is going to require compromise and getting rid of duplicate items – you don't need two coffeemakers after all.
Spend some bonding time
Once you're in the new house, the transition isn't over.
According to Infeld, even if everyone got along before, moving in together could trigger emotional reactions and new challenges.
She suggests letting kids be actively involved in decorating their new rooms and making sure they have time alone with their biological parent, in addition to doing activities that will bond the family and help turn the new house into a real home.
Final thought
Merging two families might sound like a challenging undertaking, but the combination of advanced planning, the inclusion all family members in the process and the choice of a new home that fits everyone's needs will make the transition a positive one.
Opendoor is not a financial, tax, legal, insurance, or investment advisor, and this article is meant for informational purposes only. Opendoor always encourages you to reach out to an advisor regarding your own situation.
Facing another major life change? Check out our blog for more real estate tips:
Unlock an offer on your home
Get a free, no-obligation offer in 24 hours.
Skip the hassle of listings, showings, and repairs.
Close on your own timeline.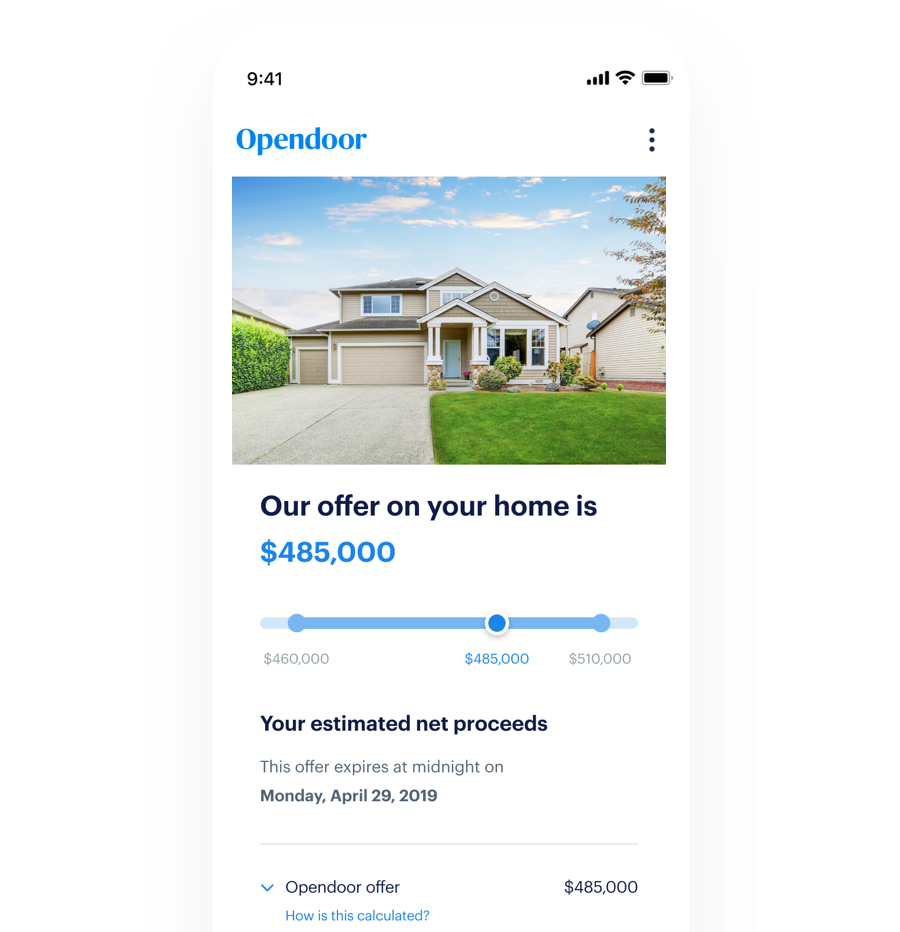 Further reading