For many people, buying a brand new home is the pinnacle of home ownership. Everything is up to today's standards. The floor plans. The appliances. The peace of mind that comes with everything being brand new. Yet, what often gets in the way of owning a brand new home is the timing of selling your existing home.
At Opendoor, our mission is to empower everyone with the freedom to move. That's why we created a program with homebuilders to make it possible for you to sell your existing home and buy a new home in one simple process.
The program, which we initially piloted with builders in Las Vegas, creates a stress-free, magical experience for the 40 percent of buyers who need to sell their home before buying a new one. The program has already been used by customers of 19 of the industry's top 25 builders, including 6 of the top 10, and today we're announcing the program is available to customers of all builders.
We give homebuilder program customers the flexibility to close in as quickly as 10 days or as long as 9 months. This allows homeowners to eliminate a double mortgage and double move whether they buy a spec home ready for move-in or one that hasn't been built yet. Opendoor's closing timelines are also flexible to accommodate construction delays or last-minute changes.
Why does this flexibility matter?
Buyers often have to double-move when purchasing a new home. This happens due to a gap between the average 4 to 9 months it takes to build a new home and the 2 to 3 months typically required for buyers to sell their existing home. This can mean getting stuck finding a temporary place to live. Who wants to live out of boxes in a hotel or go back to a parent's couch? With Opendoor, once the builder is able to provide the closing date on the new home, all you have to do is contact us to set up the same-day closing.

Interested in a spec home that need to close in less than 30 days? When you sell your home to Opendoor, closing can happen in as little as 10 days. Since spec homes tend to be where the discounts are, this could mean big savings.

New home buyers can fall in love with a home or homesite and miss out on buying it because the builder requires their current home to be under contract. With Opendoor, we can provide an offer within 48 hours and the contract can be signed digitally. That means if you fall in love with a builder's home you can walk back in two days later with a signed contract on your existing home.
Joel Trabado, who traded in his old home in Las Vegas and bought a new house from Opendoor partner Lennar, could not be more pleased with his experience: "Through Opendoor, we got the equity in our former house and were able to use it as the down payment. We didn't have to worry about when to close, because they already bought the house. The process was so simple, and we feel so happy about our new and amazing home."
Making it easy and stress-free for people to move into home of their dreams is what gets us out of bed everyday. Now, when you are moving into a brand new home, you can rely on us to remove the friction from the process and give you the flexibility and control you deserve.
Unlock an offer on your home
Get a free, no-obligation offer in 24 hours.
Skip the hassle of listings, showings, and repairs.
Close on your own timeline.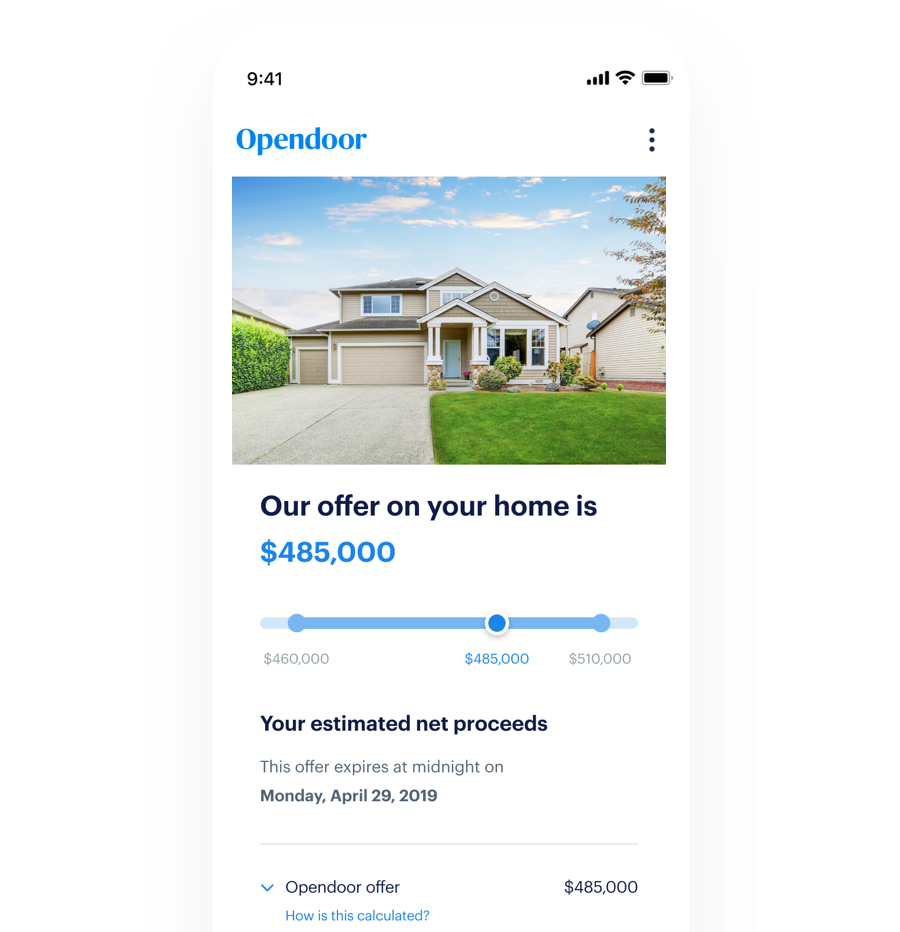 Further reading