After spending decades working in a career, the time comes to slow down and enjoy your retirement. That used to involve tee times, gardening, and a condo in the south to escape winter. Today, however, snowbirds are flying the coop. They've got plans that include second careers, time spent with family and friends, and travel — lots of it.
Planning for retirement involves developing a real estate strategy that supports this new lifestyle. While the ideal solution will depend on your individual circumstances and needs, understanding the options can help you plan the right move.
Over the last 30 years, the average retirement age for men has risen from 62 to almost 65, while women have held steady at 62, reports MarketWatch. As people enter retirement age, their home buying needs and habits change.
According to a recent generational trends report by the National Association of Realtors (NAR), "Older Baby Boomers," age 62 to 70, make up of 14 percent of recent buyers, while the group they call the "Silent Generation," age 71 to 91, represent the smallest share of buyers at 8 percent.
Older Boomers who choose to move after retirement do so to downsize as well as to be closer to friends and family. They move the longest distance — a median of 25 miles, according to NAR. When the Silent Generation moves, 24 percent choose senior-related housing, the report finds. This group is least likely to purchase a detached single-family home.
Define your new lifestyle
The type of housing that is right for your retirement will depend on your personal situation and lifestyle. The first step to deciding where you want to live is determining what you want your post-work life to look like.
If you plan to work, you may need a house with a home office. Perhaps you'll need to move to a city where there are more opportunities for jobs. If you want to spend more time with friends and family, and they live in another city or state, you may need to relocate or purchase a second home in their location.
Take into consideration all of the details of your day-to-day life. Do you need access to specialized healthcare? Do you prefer a large city or small town? Maybe you'd rather have some land in the countryside. Do you plan to travel? You should consider your proximity to an airport. What are your favorite leisure time activities? Make sure you can continue to do what you enjoy by checking the amenities of the new location.
Sell your home
Experts suggest that selling your existing house before you secure your next home is logistically the best move. While this might be especially beneficial if you need the equity from the sale of your current home for investing into your next residence, other factors will most likely influence your decision on your next move. For example, you might have found your dream place for your retirement, and you need to act fast to make it yours.
Either way, you should find out whether your market favors sellers or buyers. If you're located in a seller's market, you'll be able to sell your home fast. However, if you're living in a buyer's market, your home could be much harder to sell, even potentially pushing back a planned retirement move, as USA Today notes.
→ Want to have the certainty of receiving a competitive offer and move on your own timeline? Request a free, no obligation offer from Opendoor.
If your home sells before you find your new place, doing a double move—renting for a short time while you look at new homes—will give you the most options because you can take your time choosing your ultimate retirement residence.
There are a few options when it comes to selling your home. You can go the traditional route and list with a real estate agent, you can sell your home yourself, or you could consider selling your home to a service like Opendoor.
When George and Carol Bertoty of Spring Valley, Nevada were ready to retire, they dreaded the thought of getting their home ready for sale. They chose to skip the hassle of listing, showings, and months of uncertainty and sell to Opendoor, so they could start enjoying retirement as soon as possible.
However you choose to sell your home, taking care of that transaction first will help you know how much money you have to invest in your new residence.
Understand your finances
Once you've got a firm grip on the lifestyle you hope to have, it's time to crunch the numbers. Most people need about 75 percent of their pre-retirement income to maintain their standard of living, according to the Center for Retirement Research (CRR) at Boston College.
If you're considering a move to a new city, it can be hard to estimate the costs. Cost of living calculators, like this one from CNN, allow you to compare your current situation to potential cities based on transportation, groceries, utilities and healthcare.
Create a budget and compare it to your retirement income and savings. If the numbers don't match, your housing choice could help. Moving from a $250,000 house to one that costs $150,000 can save retirees about $3,250 a year in reduced maintenance costs, estimates the CRR.
What's more, retirees who invest the $75,000 in equity they'd recover after selling (assuming there is no mortgage, and subtracting $25,000 in real estate commissions and moving costs) could generate $3,000 per year in income with an annual 4 percent return.
Selling your home also allows you to tap into available funds. Home equity accounts for 75 percent of the average American's net worth, according to the U.S. Census Bureau.
"It's really surprising that more people don't pay attention to it," said Geoff Sanzenbacher, PhD., research economist at the Center for Retirement Research at Boston College, said in an interview with Journal of Accountancy. "The house can be a potential source of wealth."
Once you've got your lifestyle and budget in mind, it's time to develop your real estate strategy. Home appreciation is not guaranteed, so any move you make needs to be suitable for the long term.
Downsize
The most common real estate move in retirement is downsizing. You may have chosen your home based on factors that are no longer relevant to your life, such as schools or playgrounds. Those once-young kids may be college graduates now, with homes of their own.
Forty-two percent of Americans plan to downsize in retirement, according to a survey by TD Ameritrade, and it offers several advantages. You can choose a home with a layout that's more appropriate as you age, such as a single-story residence. A smaller home requires less housekeeping, while a condo also eliminates lawn care, snow removal and exterior maintenance. If you travel, a condo also gives you more security, with neighbors in close proximity who can keep an eye on your dwelling.
There are downsides to downsizing. Condos have homeowner association fees and regular assessments that can be costly. If you've lived in the same home for years, moving can be an emotional experience. And it can be an adjustment to get used to a smaller home or condominium — as well as to new neighbors.
Stay put
If you love your home, you don't have to leave it. You can stay put and renovate spaces to meet your needs. You can even draw from your home equity, using a reverse mortgage that allows those 62 and older to borrow equity from the home and repay it when they move, sell or die. Currently, just 2 percent of eligible homeowners use this lending tool, according to CRR. To qualify, you must have substantial equity or no mortgage, as well as an ability to maintain the property.
A reverse mortgage allows you to age in place if you deplete your retirement savings or experience an event that would otherwise force you to move, such as an expensive medical issue. This type of loan allows you to borrow money based on the equity you have in your home. Instead of paying mortgage payments, however, the debt is repaid when the home is eventually sold.
However, it can be costly. A reverse mortgage on a $300,000 house, for example, would include an upfront cost of $9,000 as well as annual interest on the amount borrowed, according to CRR. It also takes away the option to use home equity as a reserve or to bequest it to family.
Rent out part of your home
If you love your current home but it's too big for your needs, consider renting out a portion. Perhaps your floor plan allows you to create an apartment in your basement or garage. Turn a second story into a flat, or simply rent out a bedroom.
If you travel, you can rent your entire home while you're gone. List your house on Airbnb.com or VRBO.com. If you live in a nice climate or you're located near a tourist destination, this can be quite lucrative and can help you pay your travel expenses.
Buy into a retirement community
From independent residences to assisted living centers, new developments are being built specifically for the retired population, with some offering continuing care that increases as you age. Housing options include single-family detached homes, condos, apartments and single rooms.
Retirement communities are often vibrant, with activities and amenities designed for people 55 and over, such as onsite fitness centers, swimming pools, walking trails and social events. You can sell your home and use the proceeds to buy into a condo. Some developments offer the chance to move to a smaller apartment or complete-care room.
Some communities, depending on how they're developed and structured, offer the potential to add on services as you age, like meal delivery, transportation and onsite healthcare. While you may not need complete care right now, buying into a retirement community today that offers such services could help secure your spot for the future. This retirement housing option can be expensive, depending the level of service, though; be sure to read the contract closely.
Build your retirement dream home
Designing your perfect retirement lifestyle can also include designing your perfect retirement home. The majority of Americans would prefer to stay in their own homes rather than moving to senior housing, according to the National Aging in Place Council. Consider building a home if you can't find exactly what you want.
If you plan ahead, you can purchase the lot and hold it until you're ready to start the construction phase. Or you can build the home now, and use it as a vacation home.
Building a home means you can design it to age in place, with no-step entrances, extra wide doorways and halls that can accommodate a wheelchair if needed, and open floor plans.
Move in with family
Multigenerational homes, defined as those with two or more adult generations, are becoming more popular, especially after the Great Recession. Twenty percent of the American population lives with multiple generations under one roof, according to Pew Research, and that number that has continued to rise since 2009.
"The striking thing is that this really has persisted after the recession," D'Vera Cohn, a senior writer and editor at Pew Research Center, told The New York Times. "Perhaps this trend is here to stay."
There are several benefits to combining households. You can save on expenses, such as taxes, and grandparents can bond with grandchildren or provide childcare. If you're used to being empty nesters, however, you'll have to adjust to the lack of privacy. Other expenses, such as utilities or food, might increase since there are more people in the home consuming them. Decide if you're going to split these expenses in half or by a proportional amount.
Relocate
Selling your home and moving also gives you an opportunity to relocate to a new city, state or country, and that can save you money. Seven states, including Alaska, Florida, Nevada, South Dakota, Texas, Washington and Wyoming, don't tax personal income, according to MarketWatch. You might also choose to move closer to family or friends who will be nearby if you need help as you age.
Becoming an expat after retirement is a growing trend. In 2014, 380,000 Americans had their Social Security benefits sent to a foreign address, an increase of 50 percent from 10 years prior. In the Western Hemisphere, the top countries for expatriate retirees are Canada, Mexico, Colombia, the Dominican Republic and Ecuador, reports AARP. One of the main reasons is the low cost of living in these places. For example, overall prices in the Dominican Republic are 35% lower than in the United States, and rent is 73% cheaper, according to Numbeo.
If you sell your home and purchase another abroad, your equity could go further, and some countries do not collect property tax. It's important to research property laws and speak with an expert, however, as some might be complex. You might decide to rent if the local buying process is confusing or if you think you might move back to the U.S. at some point.
Rent
Between 2009 and 2015 the number of renters over the age of 55 increased 28 percent—the largest increase of any age group, reports Senior Housing News. The rise in renting is due to a desire to lower living expenses, reduce house-related work and have less responsibilities, according to the Rental Housing Journal. While traditional retirement locations like Florida and Arizona attract renters, more retirees are looking for places that are within walking distance of shopping, restaurants, cultural activities and recreational activities.
Renting is a great way to test a new area before you commit by buying a home. It also allows you to experience new cities by allowing you to move wherever and whenever you want. As a renter, however, you lose some control over your housing expenses as your landlord may raise your rent, or ask you to move if they decide to sell the residence.
It's all up to you
Whether you choose to enjoy a home you love for your golden years, or pull up roots and try a new location, it's important to decide where you're going to retire. Consider locations that sound interesting and types of homes that might be a good fit. Take an extended vacation where you think you'd like to live, to test the waters before you take the plunge.
Retirement is a chance to reinvent your life. Take advantage of this stage of life and all it can offer.
Opendoor is not a financial, tax, legal, insurance, or investment advisor, and this article is meant for informational purposes only. Opendoor always encourages you to reach out to an advisor regarding your own situation.
Facing another major life change? Check out our blog for more real estate tips:
Unlock an offer on your home
Get a free, no-obligation offer in 24 hours.
Skip the hassle of listings, showings, and repairs.
Close on your own timeline.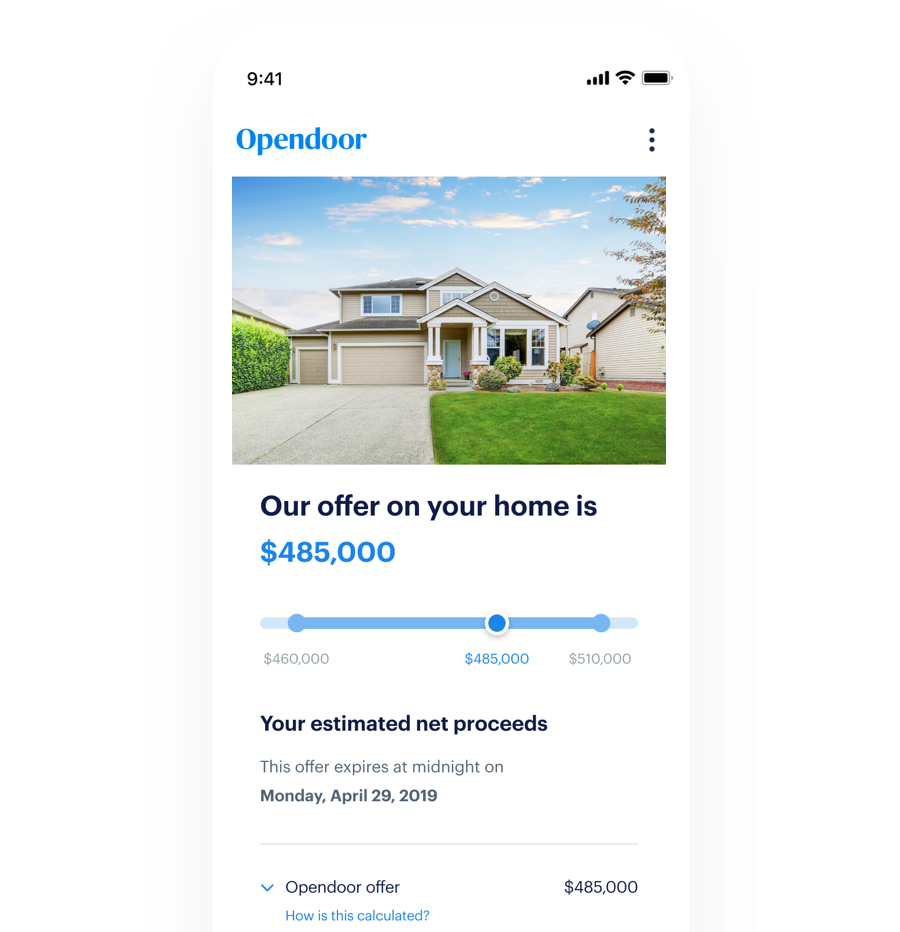 Further reading