Table of contents
Selling a house is a big undertaking. And if you want to ease the process while also maximizing profits, then being prepared is key.
Are you thinking of listing your house in the near future? Make sure you ask yourself these 9 important questions before moving forward.
Timing your sale
1. When is the best time of year to sell a house?
You can sell your home at any time of the year, but there are definitely some months (and even specific days) when selling is easier, faster, and more profitable. In general, spring and summer are the hottest homebuying seasons of the year, while sales slow down as we get into fall and winter.
If you want to maximize the money you make on your house, a study from ATTOM Data shows that selling in June, May, or July are your best bets. Homes sold in June make about 9.2% more than average, while those in May sell for 7.4% more. There's also data that shows what day you list your home matters, too. According to Redfin, homes listed on Thursdays sell for more money and at a faster pace than those listed on other days of the week.
Still, real estate is a very localized industry, and the best time to sell really depends on your market, as well as your unique situation as a homeowner. You'll want to think about:
How in-demand is real estate in my area? Is it a buyer's market or a seller's? You'll maximize profits and minimize your home's time on the market if you list it in a seller's market.

How much have I paid down my mortgage loan? The more you've paid off, the more you stand to gain in profits.

How comfortable am I financially? Selling a home doesn't come for free, and neither does buying a new house (if that's on the agenda). Make sure you have the funds to cover the costs your sale will come with.

What are local market conditions? You might consider gauging local market trends like the number of active listings or median sale price before deciding to list your home.
→ On a timeline? See our guide to selling your home fast.
2. How long will it take to sell my house?
Time to sell really depends on where you're located and the conditions of your local housing market. Your listing price, the condition of your home, and you (or your agent's) marketing and staging prowess can also play a role.
In general, though, data from the National Association of Realtors shows that the average home is on the market for 62 days. It varies greatly by state, of course. In Vermont, for example, the average house has 186 days on the market. In Washington, it's a mere 37. Again, it's important to understand how quickly your home might sell in your specific market.
→ Do you want to skip the hassle of listing your house and move on your own timeline? Learn how we make selling your home easier.
Making the most of your sale
3. How much is my house worth?
There are two main factors that determine how much your home is worth: its condition and the level of demand for homes like it. To gauge what your home might command on the open market, your best bet is to look at comparable sales. Make sure they're of similar size and condition to yours.
Also called "comps," these are what a real estate agent would use to determine appropriate pricing for your house. You can also request an offer through an iBuyer, who will be able to buy your house directly without you having to list it.
→ See how Opendoor calculates the value of your home.
4. How much does it cost to sell my house?
There are many costs involved in selling a house. Fortunately, most of them don't require an out-of-pocket payment, per se. Instead, many come out of your sales proceeds at closing.
Generally, you can expect to pay about 10% of your home's sale price in fees and expenses. These include things like:
Your real estate agent's commission (5 to 6%)

Staging and prepping your home (1%)

Seller concessions (1 to 2%)

Repair costs (varies)

Homeownership and overlap costs (1%)

Closing costs (1 to 3%)
You can minimize some of these costs by skipping the real estate agent, selling your home to an iBuyer like Opendoor, or selling your house as-is (without any repairs or staging). Keep in mind, though, homes that require lots of repairs will probably take longer to sell (and sell for less cash).
→ See how the costs of selling to Opendoor compare to a traditional sale.
5. Should I make repairs before listing the house?
Many times, homebuyers want a "move-in ready" property — one that doesn't require much work and elbow grease before moving in. This is especially true of younger buyers, 76% of whom say a move-in ready home is a must.
For this reason, you may want to consider making some repairs before putting your home on the market. Smaller, cosmetic repairs can be a good idea to make your home more marketable (and more valuable). On bigger, known issues, like a damaged roof or a broken AC unit, you have two options: make the repairs and foot the bill yourself, or adjust your price accordingly. Most buyers won't pay top-dollar if they know there are big, expensive projects waiting in the wings.
If you want to get ahead on the repairs, you might consider a seller's inspection. For a few hundred dollars, a home inspector can evaluate your home for potential issues and problems. You can then use their report to guide your pre-listing repair projects. Doing this can help make your home more marketable, plus it can prevent time-consuming inspection delays later on. Keep in mind that your state may require you to disclose certain issues that may surface as a result of the inspection.
Getting help
6. Should I use a real estate agent?
There are pros and cons to using a real estate agent. First and foremost, an agent can guide you in your home sale. They can list the home, coordinate photography and showings, market the property, and walk you through to closing. They'll also have access to local market data that can help you price and market your home appropriately.
According to Bankrate, agents typically command a 5 to 6% commission (collectively between the listing and buyer's agent). With a $250,000 home, that'd be $12,500 to $15,000. It's a big chunk of change if you're tight on funds or have lots of moving expenses coming up.
If you do choose to use an agent, make sure you vet them thoroughly. Interview multiple candidates, and get referrals from family, friends, and coworkers. You should also check out past client reviews and make sure they offer the level of customer service you'd prefer.
7. Where does the home inspector come in?
As previously mentioned, you can certainly get a seller's inspection before listing your house. Though not all sellers do this, it can help you better prep your property to sell.
Even if you do, you can usually expect a home inspection to come into play once you've accepted an offer on your house. The buyer will hire a local inspector to evaluate their property, and they may request that you credit them for a few repairs based on the inspector's findings once they're done (that amount would come out of your proceeds at closing).
From a logistical standpoint, you usually don't have to do much before an inspector arrives. You or your agent will need to give them access to the home, and you'll need to make sure they are able to navigate your entire property — including any attics, crawlspaces, or basements.
Troubleshooting
8. What can I do if my house isn't selling?
There's a chance your home won't sell as quickly as you'd like. If this happens, your home might be overpriced for the market it's in. You should compare your listing price to recent sales of comparable parties and adjust the number accordingly. You may also want to stage your home or make any repairs that could be holding buyers back from purchasing it.
If it's been a long time, you may be able to switch real estate agents or sell a different way. Be sure you choose an agent with plenty of marketing know-how and local connections. This will help increase your home's visibility and its chance of a profitable sale. You could also take the home off the market until local conditions change.
9. Can I take my favorite light fixture (or other favorite home feature) with me?
Anything that's attached to the house is something you'll need to leave behind for the buyer. This includes light fixtures, built-in shelving units, blinds, door hardware, and more. If there's something specific you don't want included in the sale, make sure you bring it up during negotiations. You'll need to note it in your sales contract.
Unlock an offer on your home
Get a free, no-obligation offer in 24 hours.
Skip the hassle of listings, showings, and repairs.
Close on your own timeline.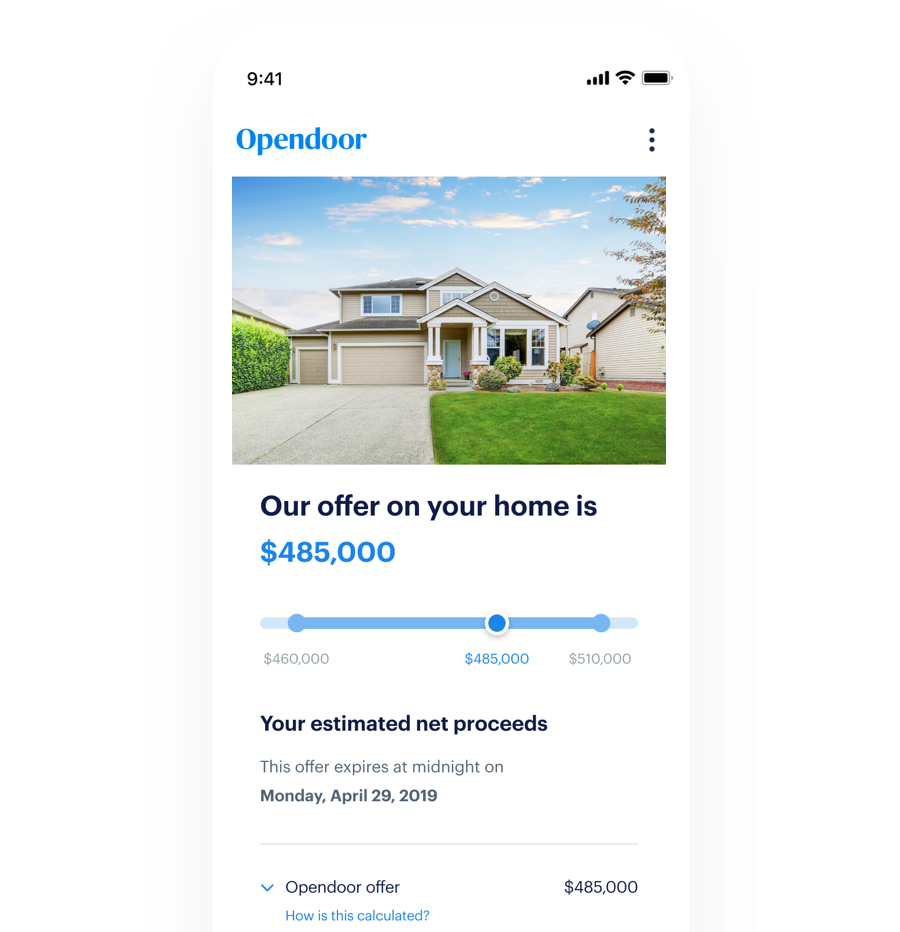 Further reading